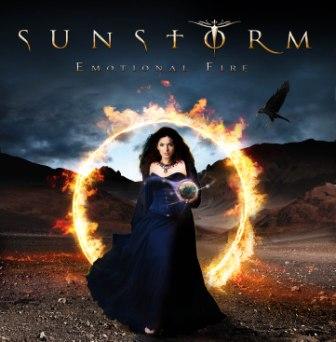 Joe Lynn Turner's Sunstorm, an AOR side project with German/American producer Dennis Ward, will release the third album entitled Emotional Fire on February 24th in Europe (February 28th in North America) on Frontiers Records.
The Sunstorm project was born after Turner met with Frontiers Records' President Serafino Perugino, as a way to dig up some old gems, written by JLT during the mid 80's. The task was to create an ultimate Joe Lynn Turner Melodic Rock 'dream collection'. This brought on the release of the first Sunstorm album in 2006 and the follow up House of Dreams three years later.
While the first two albums basic inspiration came from the Melodic Rock catalogue of songs that Turner penned for himself or other artists of the genre, for this third album, Frontiers and JLT decided to look at Turner's numerous vocal sessions he did in the 80's as a background vocalist for other artists. This brought on a resurrection of some of Michael Bolton's tracks such as Gina (originally included on The Hunger album, where Turner contributed background vocals), You Wouldn't Know Love and Emotional Fire, which Bolton penned for the Heart of Stone album by Cher. "I sang background on the original Gina" — says Joe — "Michael and I did all of the parts but I tried to rock it up a bit more than the original… not so pop! Good song though! It's funny…I heard Emotional Fire from Desmond Child during a writing session and then he asked me to sing background vocals on it! Crazy! It's like one big circle!"
Track list:
(links point to songs preview on Frontiers Records)
Lay Down Your Arms
Wish You Were Here
Torn In Half
Gina
The Higher You Rise
Emily
All I Am
Sunstorm
Lead Vocals: Joe Lynn Turner
Drums: Chris (Schmidtic) Schmidt
Bass, partial guitars and backing vocals: Dennis Ward
Guitars: Uwe Reitenauer
Keys: Justin Dakey
Produced by Dennis Ward
Genre: Hard Rock
Format: CD
Catalogue Number : FR CD 532
Barcode: 8024391053225
Label: Frontiers Records
Euro Release date: 24.02.2012
USA Release date: 28.02.2012
Thanks to BraveWords and Lisa Walker for the info.