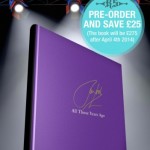 Rufus Stone has announced a Jon Lord photo book All Those Years Ago ready for publication in April this year. At £275 the book certainly will not come cheap.
The book is 224 pages measuring 310×310 mm (about 12″x12″), bound in purple silk material and comes in a clamshell box finished in faux purple suede and gold foil embossing of Jon's signature. The package will also include a 10″ vinyl single featuring two unreleased tracks by Jon and a full DVD with 2009 performance (studio? filmed live in Bucharest, Romania) of the Concerto for Group and Orchestra. The DVD will also contain the two vinyl tracks as MP3 files.
The book features an introduction by Rick Wakeman, who also signed all 500 copies of the limited edition run. Other contributors include Ian Paice, David Coverdale, Glenn Hughes, Ian Gillan, Roger Glover and Ritchie Blackmore. Jon's brother Steve has written an essay on his early life before forming Deep Purple.
The publisher swears up and down that said artificial scarcity will be strictly enforced and once 500 copies are gone, they are gone.
Preorders are now being taken at a reduced price of £250 + shipping. One can get an extra £10 off by using coupon code CONCERTO at the checkout. The price will revert to £275 on April 4.