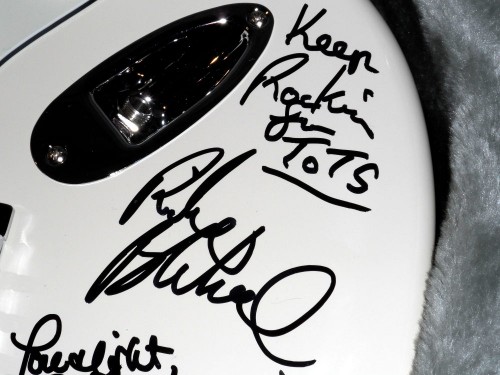 A Fender Stratocaster guitar autographed by Blackmore's Night in Dunfermline, Scotland, is being auctioned for British charity Rockin for Tots help to raise funds for Simpsons Special Care Babies, which is a registered charity (SC002013). These funds will help with the purchase of a travel incubator for the Neo Natal Unit in the New Royal Infirmary Of Edinburgh.
Blackmore's management has confirmed that the item is genuine, so this is one of those rare chances to obtain a Blackmore signed guitar. And help the world in the process.
The auction closes on February 5. Place your bids on Ebay.
Update (Feb 5): the auction concluded with the winning bid of £2,617 (approximately $4,260 or €3,150). Our congratulations to the generous winner.