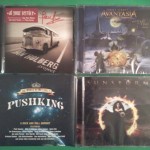 We have reported last month that Argentinian fan club Amigos de Joe Lynn Turner was running a contest with several recent CDs as prizes, Gustavo Solinas now informs us that the winners of the contest have been chosen:
Anderson Guimaraes — The Jan Holberg Project At Your Service signed by Jan Holberg
Jimmy Carlos — Pushking The World As We Love It)
Tanya Lanovets and Tonni Chatterton each will receive a copy of Sunstorm Emotional Fire
Frank Beltran and Nicolas Paez each will receive a copy of Avantasia The Mystery of Time (with 2 bonus tracks)
Our congratulations to all the winners!
The winners should receive an email soon. In case of any mishaps, please contact Gustavo via Amigos de JLT Facebook group or JLT Yahoo group.
Thanks to Gustavo Solinas for the info.