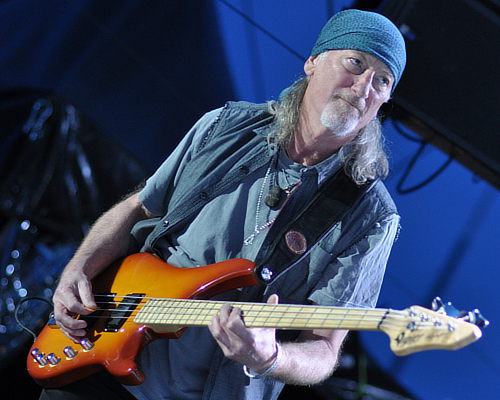 In anticipation of the kickoff of the world tour (as festival appearance in India has been cancelled) TimeOut Dubai publishes an interview with Roger Glover, where he displays quite a bit of humility:
I don't believe we sold 100 million records. People make things up because it goes down well with the press. I'm a musician, not an accountant. But I can't imagine we've sold anywhere near 100 million.
I was talking to a taxi driver and he said "Deep Purple? Are they still around?" We get a lot of that. People think we're dead and buried. I don't care. It's not their fault.
Yet this bit of journalism raised some eyebrows in our headquarters as there was a strong feeling that Roger was the one pressing for making another album:
The public's lack of awareness isn't helped by the fact Deep Purple have all but given up as recording artists. Their last album, Rapture of the Deep, was released in 2005; instead the band have morphed into a touring tribute to their glory days. 'There was a discussion about whether we should release more albums – something I opposed,' says Glover. The band are currently putting the finishing touches on a new LP, and the bassist admits it's likely to be the last. 'We're all in our mid-60s,' he adds. 'You never know which will be a last album.'
We took the liberty of getting in touch with our favourite bass player and he sets the record straight:
The journalist has the wrong end of the stick. There was a discussion some years ago as to when, where, with whom, or even whether to record the next album but I never said that I was against recording an album – quite the opposite. We're an 'album band', whether it's out of favour or a losing proposition or whatever – I believe we should be who we are. An album is a state-of-the-union statement and for a band like us, that's important, if only to me. :-]

I'm annoyed, though not entirely surprised, that the journalist got it wrong. I also never said that this will be our last album.
Thanks to Rich Shailor for the info and to Roger for clarification.