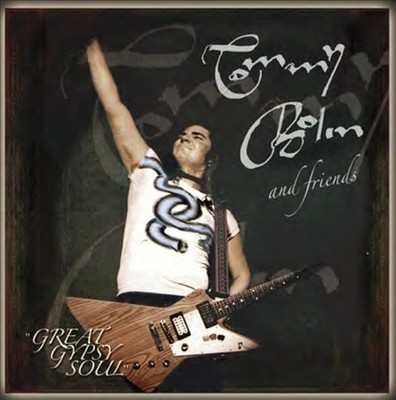 An impressive roster of players have signed on to pay tribute to Tommy Bolin called Great Gypsy Soul. Produced by Greg Hampton and Warren Haynes, it's a project that brings together major players who actually perform alongside Tommy Bolin's playing and vocals from the recording outtakes to his solo debut album, Teaser. Peter Frampton, Warren Haynes (a key supporter of the project), Nels Cline, Steve Lukather, Steve Morse, Brad Whitford, Joe Bonamassa, John Scofield, Derek Trucks, Glenn Hughes and Myles Kennedy all contributed to the project.
Great Gypsy Soul will be released on 429 Records on March 27th in both a single CD format and double CD with bonus tracks. A series of promotional concerts are also in the works.
Says Warren Haynes:
Many of the guests added after the fact have a close personal connection to Tommy – all share in acknowledging his place in rock history. Watching (and hearing) it all come to fruition some 35 years later was a journey of its own – well worth the travel.
Tracklisting:
Disc 1:
The Grind (with Peter Frampton)
Teaser (with Warren Haynes)
Dreamer (with Myles Kennedy and Nels Cline)
Savannah Woman (with John Scofield)
Smooth Fandango (with Derek Trucks)
People People (with Big Sugar and Gordie Johnson)
Wild Dogs (with Brad Whitford)
Homeward Strut (with Steve Lukather)
Sugar Shack (with Glenn Hughes and Sonny Landreth)
Crazed Fandango (with Steve Morse)
Lotus (with Joe Bonamassa, Glenn Huges and Nels Cline)
Disc 2, Bonus CD:
Flying Fingers (with Oz Noy and Nels Cline)
Marching Bag – Movement One (with Nels Cline, Bolin, Greg Hampton, John Scofield, Sonny Landreth)
Marching Bag – Movement Two (with Nels Cline, Bolin, Steve Lukather, Derek Trucks, Peter Frampton)
Marching Bag – Movement Three (with Gordie Johnson, Bolin, Nels Cline, Oz Noy, Steve Lukather, Steve Morse, Joe Bonamassa)
Marching Bag – Movement Four (with Nels Cline, Bolin, Warren Haynes, Joe Bonamassa, Oz Noy, Brad Whitford, Peter Frampton)
Thanks to BraveWords for the info.