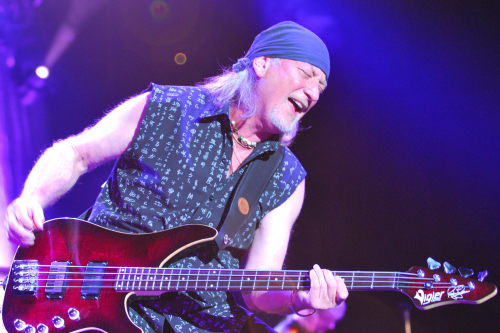 The Quietus has a lengthy interview with Roger Glover that covers his illustrious career as a songwriter, producer and bass player. It is a joyful read (despite the fact that they've managed to misspell 'Paice' in two differently atrocious ways).
You played in what is now regarded as the classic Deep Purple line-up. In how far were the additions of you on bass and Ian Gillan on vocals responsible for the sound that was created in those years?

RG: I didn't really know of Deep Purple before I joined the group. If they were known for anything it was for the virtuosity within the band – Richie Blackmore, Jon Lord and Ian Paiste were masters of their instruments. Gillan and I however came from completely different background. We were basically naïve songwriters. So I think there was a great combination there, with their musical ability and our very much street value simplicity. And it was a combination that worked, right from the get-go, I mean the first song we wrote was 'Speed King'. All that playing they could do and yet we just took rock & roll and turned it into a song.

Were you not intimidated at first by that advanced musicianship?

RG: I was, yeah. But I don't know, it didn't stop us, it was a very natural thing. All the songs came out of jams, everything was made up as we went along. And as much as I couldn't play my instrument and couldn't play solos the way they could, it wouldn't have resulted in the way it did without us. So right from the start we said, 'Let's all share the publishing.' So all those early songs were written by the five of us. Keeping that in mind, on that first album, Deep Purple In Rock, despite the fact that Richie was a far better player than I was, I could still come up with riffs that he'd play. He was interested in simple riffs, he was wise enough to know that you can't be too musical because people won't understand it. So it's that combination of high musical values and yet simple, strong ideas. I started 'Speed King', for example and 'Maybe I'm A Leo' is one of mine.
Read the rest on thequietus.com.
Thanks to BraveWords for the info.