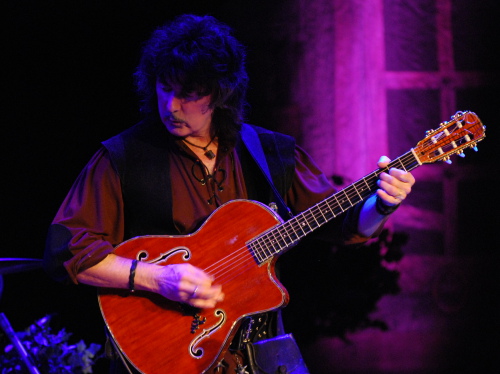 Promoting his band's US tour, Blackmore gave to Fender one of his rare interviews. He talked about his writing process these days, castles and ghosts (what else!), why he started to play guitar and not trumpet, ticket prices, and many other things:
FN: Could you talk about your evolution as a guitar player, from those early classical lessons to Deep Purple and Rainbow bassist and producer Roger Glover helping you to recognize that while playing with speed can look flashy, that slowing down and holding a note is also a true art?

RB: I realized when I first started playing the guitar I wanted to be very fast. Then I realized, when that wore off, that playing slower and with more feeling and emoting was much harder. It took me a few years to get used to playing slowly. Now I find it harder to play fast.
Read the interview at Fender.com.
On a related note, still photography is now officially permitted at Blackmore's Night gigs during the first 2 songs, but not video or audio recording. At least that's what what announced from stage before the start of Chicago show this weekend.
Thanks to Kevin Dixon for bringing the interview to your attention.