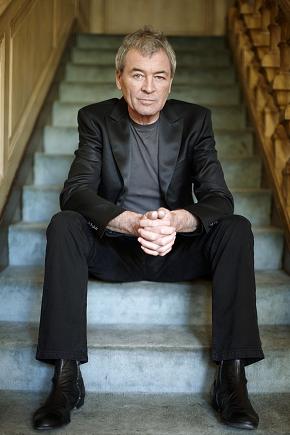 Ian Gillan did an interview with UltimateGuitar.com and by all accounts he was as baffled as we are that a guitar site wants to interview him. Besides the obligatory talk of his new album, some insights into Big Ian's reading habits, early music influences, and mildly amusing anecdotage have floated:
Two to three weeks ago, I took part in a photograph session in Milan. It was quite weird, actually. Quite a few girls were present, such as my personal assistant, the hairdresser girl, the makeup girl, the translator, etcetera etcetera. Quietly in the background, they gave 'One Eye to Morocco' a spin.. They chattered over the album, and no-one really listened. I saw something in the corner of my eyes though; I tried to concentrate on having my photograph taken, and noticed all their bums moving. I thought "Ahh. Mission accomplished here". That's exactly what I wanted. As opposed to Deep Purple type material, you might describe 'One Eye to Morocco' as more thrusting. The album is much more intimate, and seductive.
And as for the plans of Purple's next album, the answer is not encouraging at all:
Could you provide an update regarding Deep Purple's plans for the next several months?
Well, we have shows booked up until January 2010.. I'm just home for a day or two to do some laundry. We'll be performing little one nighters in Brussels, Berlin and Dubai, and then we'll perform dates in Japan, Russia, and a batch of European concerts. We have shows booked in South Africa and North America, as well as a UK tour in November. We'll then tour France over Christmas and January, and on it goes.
Are there plans to record Deep Purple's nineteenth studio album?
There are no plans, no. It's like everything, I guess. We don't make plans – it'll just happen.
Thanks to BraveWords for the info.