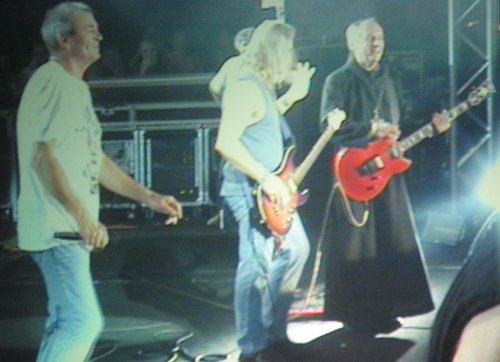 Last Sunday, August 3, Deep Purple played a show at one of most unusual rock'n'roll venues — a monastery in Bavaria, Germany. Kloster Benediktbeuern dates back to the 10th century and still serves as home to about 45 monks of the Salesian order. What's even more unusual is that the Archabbot Notker Wolf joined them on stage with his electric guitar to jam on Smoke On The Water.
The prelate also played opening act with his own band Feedback. They did some songs from their recent album and a cover of Jethro Tull's Locomotive Breath (with Father Notker, who is now the "boss" of 8,000 monks and 16,000 nuns all over the world, covering flute duties). The band was founded in 1978 by five school boys of the monastic high school in Sankt Ottilien. Wolf, who was the abbot of that monastery from 1977 until 2000, knows young musicians and they stared working together ten years ago. His life long dream of performing on the same stage with Deep Purple finally came true last weekend.
The story of the Benediktbeuern concert made headlines on the national news in Germany. You can watch the TV coverage at tagesschau.de.
Thanks to BR-online for the info.