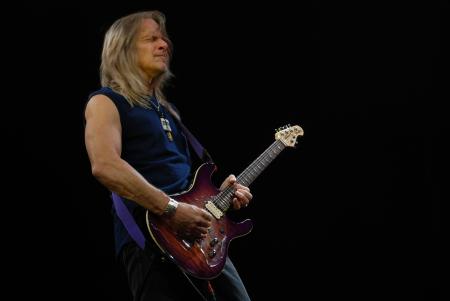 Steve Morse used the break in the busy touring schedule to work on the new Steve Morse Band album:
We have 10 songs, ranging from a classical guitar/bass piece to a Bluegrass instrumental, and of course, many tracks reminiscent of the style on 'Southern Steel'.
He has also completed a solo album in collaboration with Sarah Spencer (Dave LaRue on bass and Van Romaine on drums provided the rhythm section). The album is called Angelfire and will be released in the fall this year on Radiant Records.
Sarah has the kind of smooth, beautiful voice that makes for a welcome contrast to the harsh realities of life, but she can really sing anything. I simply chose to write the type of music that I would like to hear her sing, and it still blows me away with how good she sounds.
Read more on stevemorse.com.
Thanks to Daniel Bengtsson for the info.