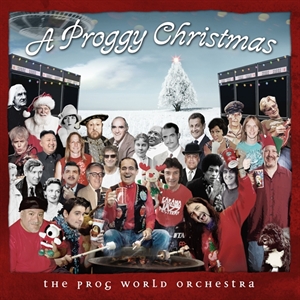 Another all-star album with Steve Morse participation — this one is called A Proggy Christmas. Brainchild of Neil Morse, it features some of the finest names in, naturally, prog rock — Mike Portnoy (ex-Dream Theater), Steve Hackett (ex-Genesis), Roine Stolt (ex-Sane Person), our own Steve, and Pete Trewavas (Transatlantic, Marillion).
Track list:
Joy To The World
The Little Drummer Boy
O Holy Night
Frankincense
Hark The Herald Angels Sing
The Christmas Song (Chestnuts Roasting On An Open Fire)
Carol Of The Bells
Home For The Holidays
Shred Ride – Sled Ride/Winter Wonderland
Night/We All Need Some Light
The press release also alludes that Steve not only plays guitar, but also sings on the album:
Complete with shreddy guitars as well as soothing fretless bass, vocals on occasion by the illustrious Mr. Morse, and everything in between, this is an album the true fan will enjoy for years to come.
On a second thought… The are two illustrious Mr. Morses on the album. 😉
A Proggy Christmas will be available on November 6 via Radiant Records.
Thanks to BraveWords for the info.