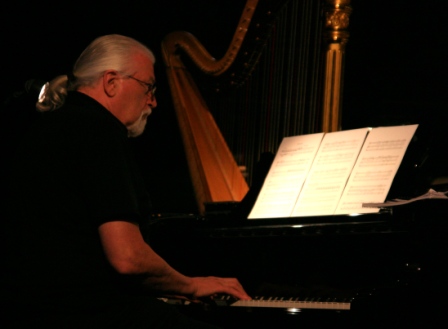 Durham Concerto by Jon Lord will be performed by the Liverpool Philharmonic Orchestra conducted by Mischa Darmev at the Durham Cathedral in England on October 20. Jon will take part in the performance as a soloist playing Hammond.
Durham Concerto is a piece of music that Jon had been working on since he left Deep Purple and is dedicated to the City of Durham and 175th anniversary of the Durham University (which gives it a strong claim to the title of the third oldest university in England after Cambridge and Oxford):
2007 marks the 175th anniversary of the founding of Durham University, the oldest English university after Oxford and Cambridge. The University wants to use this opportunity to correct a mysterious imbalance in its reputation – strong in the UK (consistently ranked as one of the UK's top universities), but less well-known further afield.
In order to maximise this impact, when seeking a suitable composer Durham turned to Jon Lord, who, early in his long career with Deep Purple, wrote a Concerto for Rock Group and Orchestra, which has been hugely successful and has remained one of the most regularly performed works for symphony orchestra. Jon Lord has a wide international following, and is now established as a highly regarded composer of music for classical forces.

The project was conceived by a Durham University alumnus, John McLaren, a former diplomat and investment banker and now novelist, who is founder of Masterprize, the world's leading prize for classical composers.
McLaren together with the University comissioned Jon to write the concerto back in 2001. The musical influences for the piece span jazz, ragtime, rock, and even Northumbrian folk music, including an old miners' lament.
The 45-minute Concerto consists of six movements, arranged into three parts: Morning, Afternoon and Evening. Morning describes the Cathedral at dawn and then the town coming to life. Afternoon starts with a movement representing the historic event where monks carried St Cuthbert's body from Lindisfarne, and concludes as the composer contemplates the wonderful view from Prebends Bridge. The last section, Evening, captures the high spirits of a student dance and a Miner's Gala, and ends with an imposing, but uplifting, movement in praise of the Cathedral.
There are solo parts for violin, cello and the Northumbrian pipes, and Jon Lord will play the Hammond organ in the first performance.
Jon, who is giving his services free of charge, said:
When I first went to Durham, I was speechless. There is something about the space which is awe inspiring. Until then I had only seen Durham's Cathedral from the train. Walking up through the old town to Palace Green and that astonishing Cathedral, I knew that I had said yes to the right project.

If people who hear the music get just ten per cent of the buzz I got from Durham, I will have succeeded in my mission.

Classical music is something I have held in my heart since I was a young boy. I had always written music and I started to play the classical piano at the age of six. Rock and roll snapped my head around and indeed has defined my career, but it never stopped me from loving classical music.
The Durham Concerto world premiere:
Saturday 20 October 2007, 7:30PM
Durham Cathedral, Durham, UK
Royal Liverpool Philharmonic Orchestra
Soloists: Jon Lord (Hammond Organ); Kathryn Tickell (Northumbrian Pipes); Matthew Barley (Cello); Ruth Palmer (Violin)
Tickets range from £3 to £12 and can be booked through
Tourist Information Centre
Millennium Place,
Durham, DH1 1WA
0191 384 7641
email: touristinfo@durhamcity.gov.uk
Further information at www.durhamconcerto.com.
Thanks to Patrick Turnham for the info.