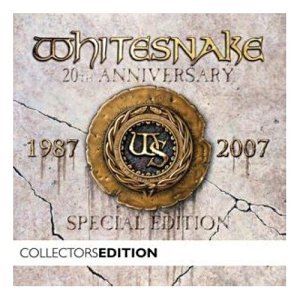 EMI has set a May 31 North American release date for Whitesnake 1987: 20 Anniversary Collector's Edition. The edition includes CD and DVD and will be packaged in a fold out digipack with PVC slipcase with sleeve notes written by Geoff Barton of Classic Rock magazine.
Originally released in 1987, the album hit No. 8 in the U.K. charts and went on to sell a eight million copies worldwide. The album also spawned three hit singles: Still of the Night, remake of Here I Go Again and Is This Love (a.k.a. Is This A Jaguar Covered With A Scantily Clad Tawny Kitaen). The CD features the original European album (with two more tracks than its American counterpart) and four bonus tracks taken from Live…In the Shadows of the Blues. The DVD features four videos, all of which got huge airplay on MTV at the time of release; which may have been influenced by the ample charms of aforementioned Ms. Kitaen; and four live performances from the Live, In the Still of the Night concert.
You can preorder this through our Amazon shop.
Track listing on the CD:
01. Still of the Night
02. Bad Boys
03. Give Me All Your Love
04. Looking for Love
05. Crying in the Rain
06. Is This Love
07. Straight for the Heart
08. Don't Turn Away
09. Children of the Night
10. Here I Go Again 87
11. You're Gonna Break My Heart Again
12. Still of the Night (Bonus Track)
13. Here I Go Again (Bonus Track)
14. Is This Love (Bonus Track)
15. Give Me All Your Love Tonight (Bonus Track)
Bonus tracks on the CD are taken from Live in the Shadow of the Blues.
Thanks to Mike Garrett for the info.