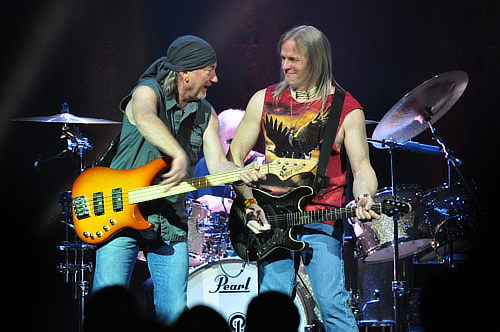 Goldmine magazine has another one of those top-something lists (yep, we can hear the eyes rolling from all the way up in our editorial ivory towers). But it is a list on a topic rarely discussed outside the hardcore fan forums — it's a top 20 of Morse era tracks, and it's rather eloquently penned by Martin Popoff. So try it out as food for thought. We are sure each one of you has an opinion on the matter. 😉
20. "The Surprising"

We begin this tour of wonders with a vaulted progressive epic from the band's second album with Bob Ezrin producing, namely Infinite from 2017. What I love about this one is how busy Ian Paice is on the mellow bits (with Steve playing spaghetti Western), and then how two minutes in, the song explodes into a heroic Middle Eastern-tinged heavy prog, featuring spooky, cool keyboards from Don Airey. Don features prominently in the ethereal cool-down as well, and then there's even more surprises. "The Surprising" was the fourth single from the album, whatever that means.
Continue reading in Goldmine.
Thanks to Mike Whiteley for the heads-up.