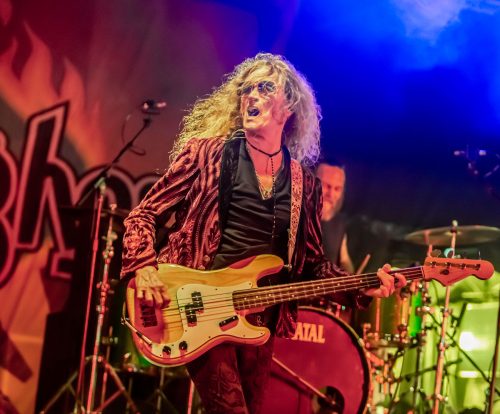 Metaltalk has an illustrated review of Glenn Hughes doing his Deep Purple set at the Maid of Stone Festival on July 22:
Maid Of Stone – Saturday. By the time the Headliner, Glenn Hughes, arrived, we had stopped caring about the rain and the weather. Many had since departed, yet those who stayed to the bitter end, bitter being the operative word as the wind had not eased, were presented with a pure masterclass of Deep Purple classics.

Though, in view of their soaking wet and cold state, probably many fans were happy for the headliner to play a shortened set, this was my one main gripe of the weekend. How come the Headliners played the same length of time as all the rest of the bands on the bill?

Surely, they were entitled to more than an hour. Answers on a postcard, please.

That said, this was a well-packed hour, and despite a slippery stage, Glenn brought his 'A' game to the park. Playing a set built entirely around Deep Purple songs, this was a delight and a wonderful slab of nostalgia with which to finish the day.
Continue reading on Metaltalk.
Photo: Robert Sutton/MetalTalk