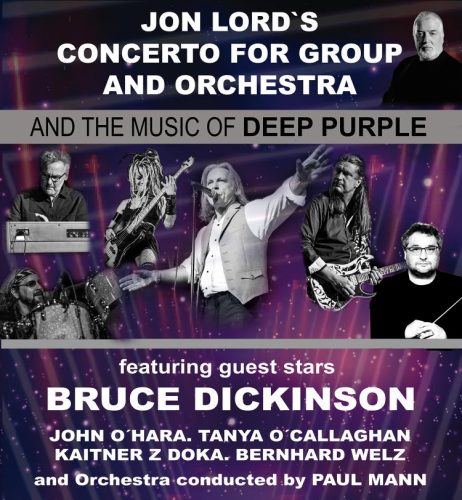 More Concerto performances have been announced for March/April 2023, this time in the southeast of Europe. These slot nicely just before the Brazilian performances later in April.
15 March – Sala Palatului, Bucharest, ROMANIA
18 March – National Palace Of Culture, Sofia, BULGARIA
22 March – Sports Hall Mirza Delibasic, Sarajevo, BOSNIA-HERZEGOVINA
24 March – Hall Drazen Petrovic, Zagreb, CROATIA
25 March – Cancarjev Dom, Ljubljana, SLOVENIA
02 April – Hala University Palacheho, Olomouc, CZECH REPUBLIC
Bruce Dickinson is once again the big name on the billboard, with the rest of the band consisting of John O'Hara (Jethro Tull) on keyboards, Tanya O'Callaghan (Whitesnake) on bass, Kaitner Z Doka (Jon Lord, Ian Paice) on guitar, Bernard Welz (Jon Lord, Don Airey) on drums, and Mario Argandonia (Scorpions) on percussion. Paul Mann will be directing what would presumably be the local orchestras.
Tickets can be booked through the links on Dickinson's website.
Thanks to BraveWords for the info.