For many years the band's sales numbers have been a mystery — the record industry types like to keep their cards very close to their chests. The total worldwide sales number of 100 to 120 million records had been banged around at some time, without any supporting evidence.
An interesting article appeared on chartmasters.org in 2021 (the whole site is a bonanza for music lovers who happen to be numbers geeks). It gives both raw numbers for album sales and introduces the concept of Equivalent Album Sales. See a quick 2-minute intro video or read all the gory details.
This leads to some very interesting results. The raw numbers for album sales are as follows: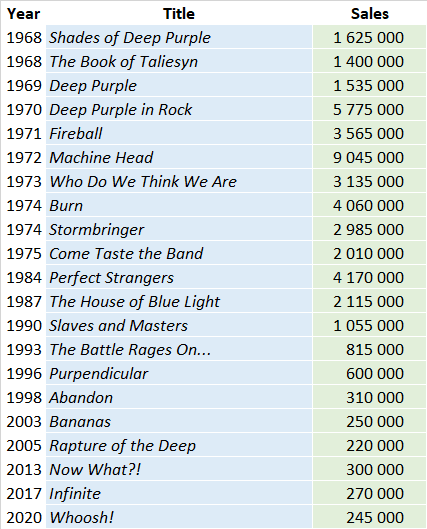 That leaves out a plethora of live releases, countless compilations, singles, offshoot bands, downloads, streaming, et cetera, et cetera. The Equivalent Album Sales (EAS) concept aims at addressing all that.
In short, 1 album = 1 full length music video (think Cal Jam) = 2 EPs = 3.33 physical singles = 6.67 digital singles = 1500 audio streams = 6,750 video streams. Yes, these coefficients are somewhat arbitrary, but they are what they are. You are invited refer to the original article and crunch the numbers with your favourite weights, if you're inclined to do so.
Live albums and compilation sales are distributed to album sales proportional to how much each album contributes to the live album or compilation (e.g. streaming data suggests that Machine Head tracks account for 85% of Made in Japan listens, so 85% of MiJ numbers are counted towards MH album equivalent sales).
And the final result (drum roll):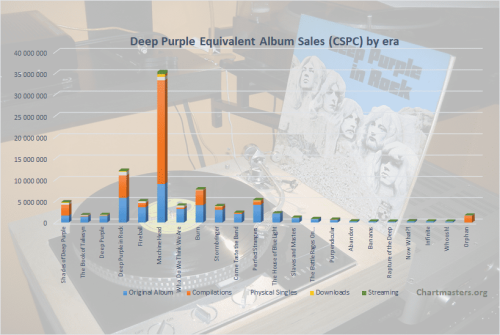 Machine Head gets the largest boost — in addition to 9 million album sales, the final adjusted number gets closer to 35.5 million. That includes EAS of 24 million from live and compilations, 1.3 million from singles, and 750 thousand from streaming. It ends up as the best selling album of 1972.
Other albums with significant EAS boost:
Shades of Deep Purple went from 1,625,000 purely album sales to 4,764,000 EAS;
In Rock from 5,775,000 to 12,192,000;
Burn from 4,060,000 to 7,921,000.
Once all is said and done, total worldwide for the whole career comes to 92.5 million equivalent album sales.
Notable records and achievements:
At 23,630,000 EAS, Smoke on the Water is the most successful song from 1972.
At 23,630,000 EAS, Smoke on the Water is one of the top 10 most successful songs from the 70s.
At 23,630,000 EAS, Smoke on the Water is one of the top 25 most successful songs of all-time.
At 8.6 million pure album sales, Deep Purple are among the best selling foreign artists of all-time in Japan.
Deep Purple are one of the rare foreign acts to sell over 500,000 with both a single/EP and an album in USSR.
This is just a summary of a quite a long article. Check the source for full details.
One big caveat thought: the article does not give any sources for the raw sales numbers, and they are the foundation for all results and conclusions, so take everything with a grain of salt.