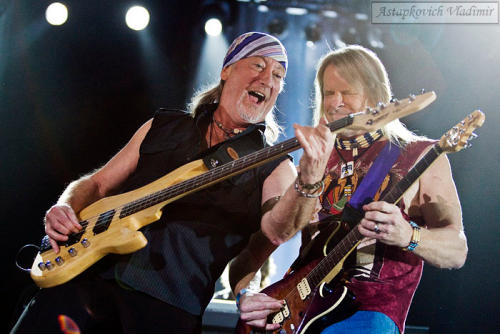 [Confirmed] As soon as the band got off the stage at Budokan in Tokyo on April 12, rumours started circulating that the gig was professionally filmed. As said rumours are coming from all the sides now, we feel we should report it.
If any of our readers can confirm this first hand (as in "I was there and I saw the cameras"), please leave a comment.
This seems to be confirmed.
Setlist for the night was:
Apres Vous
Into the Fire
Hard Lovin' Man
Strange Kind of Woman
Vincent Price
Contact Lost
Uncommon Man
The Well-Dressed Guitar
The Mule
Above and Beyond
Lazy
Hell to Pay
Don Airey keyboard solo (including album from Keyed Up)
Perfect Strangers
Space Truckin'
Smoke on the Water
Hush
Black Night
Thanks to Andrey Gusenkov and BraveWords for the info, and to Joel Peterson and others for supporting evidence.