Deep Purple live at Nippon Budokan (Tokyo, Japan 2014-04-12)
After more than 40 years of worshipping all things Purple, I finally made my pilgrimage to The Budokan in Tokyo to hear Deep Purple play at this storied arena, the place where my favourite album of all time, Made in Japan, was created.
I got to Tokyo last Monday to learn that all seats were already sold out….I was lucky enough just to pick up one of the few remaining standing room only slots. And yes the place was full, jam packed. Capacity is normally 14,000+ without a stage, with the stage it is about 10,000. So there were about 10,000 souls there to witness Purple bring its Now What?! show to Tokyo.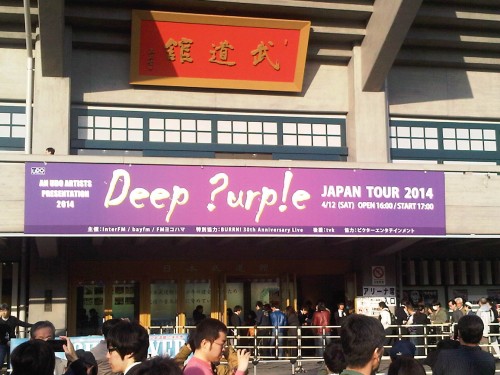 First song was "Apres Vous", and Ian Gillan wearing a mock tuxedo was in fine voice. Next up was "Into the Fire" with some good screams by Ian. Roger led the riff into a powerful "Hard Lovin' Man". Then came "Strange Kind of Woman". Gillan's voice is strong and clear in the lower range and playing to those strengths, did a great jazz scat during the call-and-response with Steve Morse.
Gillan then said "that was the end of the jazz part of the show" and with that the band launched into "Vincent Price". A very nice guitar solo by Steve in the same vein as on the album but with a bit more edge and improvisation. And a very good scream at the end of it all by Ian G.
Steve then played "Contact Lost" and segued into a nice solo which when joined by Don Airey morphed into "Uncommon Man". Very nice work by Steve and Don, they have certainly put their own personal stamp on this band. At the end of that song Steve carried into another blistering solo which led into "Well Dressed Guitar".
More strong voice and good screams by Big Ian on "The Mule", and a very energetic drum solo by Little Ian Paice. The man is in his mid 60's but is still able to bash those drums harder and faster than many men half his age.
Ian Gillan introduced the next song as "dedicated to our beloved Jon Lord" and the band started into "Above and Beyond" with a very nice key solo by Don, which then eased seamlessly into "Lazy". Next up was "Hell to Pay" with another wonderful keyboard solo by Don which then segued into "Perfect Strangers".
Next up were the old familiar chestnuts of "Space Truckin" and the finale "Smoke on the Water". The band came out for one encore which included "Hush", a fine bass solo by Roger, and the closer "Black Night".
A very fine show by a band that is tight to the 'n'th degree and very polished. Almost a third of their show encompassed tunes from Now What?! This band in not a nostalgia act, it is a living breathing vital entity that has a lot more to bring us in future. Long Live Purple!
Gary H. In Tokyo, Japan – April 13th, 2014
review by Gary Halverson