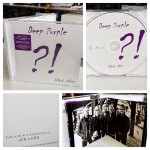 Mathieu posted this as a comment to Stathis' review and we thought it deserves to be promoted to a separate post.
---
I was able to hear NOW What?! before the press conference the two Ians gave in Paris two days ago.
Let me share my thougts.
The first thing that strikes me is I'm unable to compare what I heard with anything else the band has done before. Sure this is Deep Purple, you can not miss it. And this is Mk Morse, no doubt about it. But it ends here for me. Rapture of the Deep was a kind of a synthesis of the three previous records, this one sounds like a new start. This is no Purpendicular meets Abandon as I read a lot. Not to me at least.
The reason why? This album seems to be the child of seven years of non stop touring. I'm pretty sure Bob Ezrin said to the good guys "Here is what I like from your gigs, let's put it on a record". Here and there you can find a lot of what Deep Purple MkVIII does on stage. The result is the album has a true live feeling never heard before. Very exctiting.
It's obvious Bob Ezrin just perfectly understood what Deep Purple is about in 2013, and took the best from the musicians. His input seems massive. Sure the band wrote the music. But Ezrin was right behind them, doing like a director. He's been the outside ears the band needed for years…
I'm pretty sure he is the reason why there is so much (good) work on vocal melodies for instance. To be honest, Gillan's lines were a little bit easy and lazy last time around. Not this time, and that's a heck of a good progress. Almost everything is catchy, you can't stop huming it the rest of the day. Little doubt he told Steve Morse to slow down a little bit. There are almost no super quick chromatic solos on the album.
What makes the album so strong is that there seems to be no fillers on it. Even the lightest tracks have something to give. That what not the case with Rapture of the Deep to tell the truth. Back to the easy and lazy approach the band was able to fall into… But not anymore! Proof of that is no track sounds like another one on NOW What?! Diversity is the word.
I won't go into a track by track, especially after just one hearing. But I can tell you there is a standout number on the record, a Deep Purple classic on the making. "Out of Hand" has the majesty and the power of Perfect Strangers and Battle rages on, no kidding! Other very good tracks are the two singles (way better in their full version, wait to hear the key solo on Hell to pay!), A Simple Song, Uncommun Man and Weirdistan. At worst, there seems to be a soft spot, but Blood from a Stone and Above and beyond could very well be growers…
All in all, I am impressed. And excited. Job well done, gentlemen!
Mathieu