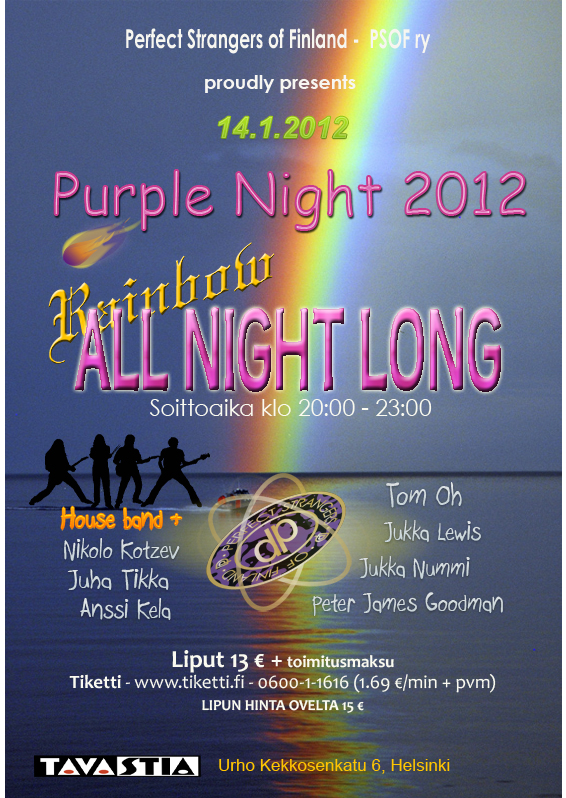 The Perfect Strangers of Finland will hold it's 4th Purple Night on January 14, 2012. The party is dubbed All Night Long and will be dedicated this time to Rainbow. Rainbow music from 1975 to 1995 will be performed by a house band and guest musicians.
The house band consists of musicians who have played with Graham Bonnet and Doogie White on their Finnish tours: "Lacu" Lahtinen (Popeda, Michael Monroe) on drums, Mika "Lamppari" Lamminsivu on guitar, Klaus Wirzenius (Manzana, Pate Mustajärvi N.Y.T.-tour) on bass and Okke Komulainen (Leningrad Cowboys, Sleepy Sleepers, Bomfunk MC) on keyboards. The vocalist Jukka "Jay" Lewis has played bass in Graham Bonnet´s Finnish touring band as well.
In addition to the house band, the evening will feature guest vocalists Peter James Goodman (Conquest, Purple Society), Jukka Jay Lewis (Yö, OZ), Jukka Nummi (Myon, Rainbow Shakers, Angry Machine) and from the US Tom Oh (Red Car Driver, Rock Rooster). Special guests on guitar will include Nikolo Kotzev (Brazen Abbot, Glenn Hughes, Joe Lynn Turner), Anssi Kela and Juha Tikka (Shades of Purple). As melodic hard rock night needs backup vocals too, Riitta "Ritchie Millhill" Myllymäki and Päivi "Daisy Pinehill" Petäjämäki both have experience in classical music from opera choirs and they also sing rock and folk music.
What: Purple Night 2012 – All Night Long
When: 14 January 2012, show starts at 8 pm
Where: Tavastia Club, Helsinki, Finland
Tickets: Tiketti €13 advance, €15 at the door.
Age limit: 18
Thanks to Jari Kaikkonen for the info.