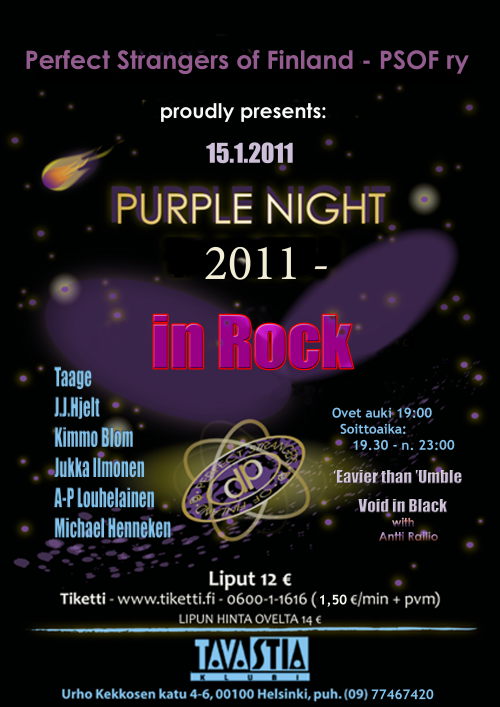 Encouraged by the success of the two earlier Purple Night shows in 2008 and 2009, this year Perfect Strangers of Finland fan club presents the In Rock-themed Purple Night 2011. The house band will play all the songs of this album, featuring several singers: A-P Louhelainen, Jukka Ilmonen, J.J.Hjelt, Michael Henneken, Kimmo Blom and Taage. In addition to the songs from the In Rock album the attendees will hear other evergreens and rarities from the long career of Deep Purple.
Purple Night 2011 will be opened with tributes to two other classic bands. 'Eavier than 'Umble, naturally, plays Uriah Heep. For this special occasion their vocalist Tiina Pesonen joins forces with guest soloist Jukka Ilmonen.
Void in Black covers Black Sabbath from Ian Gillan, Glenn Hughes and Ronnie James Dio era. They too, will feature two singers — Antti Railio, who sang in the winner choir conducted by the Stratovarius singer Timo Kotipelto in Finland's Clash of the Choirs 2009, will join on stage the band's own Nico Rauhala.
The In Rock house band brings together experienced Finnish professionals who have played not only in many top bands in Finland, like with Michael Monroe, but also on the Finnish tours alongsinde with Joe Lynn Turner, Graham Bonnet and Doogie White. The house band musicians are: Lacu Lahtinen (drums), Mika Lamminsivu (guitar), Klaus Wirzenius (bass) and Risto Lassila (keyboards).
Hosts: sportman Juha 'Taikku' Taivainen and PSOF lady Kirsi Pynnönen.
What: Purple Night 2011 – In Rock
When: 15 January 2011, show starts at 7.30 pm
Where: Tavastia Club, Helsinki, Finland
Tickets: Tiketti €12, €14 at the door.
Thanks to Sirpa Hammar for the info.