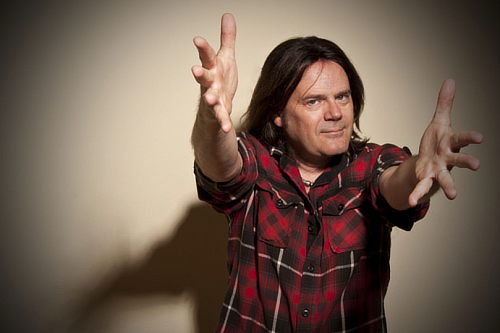 Rick Freeman offered us for publication an interview with Doogie White that he did recently.
Rick: How did the solo album come about? Hard to believe that this is your first!
Doogie: Well I had a great many songs kicking around that I had written over the years and during the down time after parting from Yngwie I decided to record an album. You either step up or get off.
Rick: Did you go into the studio with songs to record or did you work them out during the sessions?
Doogie: The songs were all demoed with the other writers and sent out to the musicians. They then played and recorded their parts and Pontus Norgren put it all together.
Rick: When you write a song what comes first, the Title, the lyrics or the music?
Doogie: It can go either way. I tend to have lots of scraps of paper or notebooks with ideas lying around. I also tend to put ideas down on a small recorder for riffs or melodies. It's a very organic spontaneous way of working. Sometimes someone will send me music and I have to work round that.
Rick: What was the atmosphere like in the studio making your first solo album, were you the "Boss" or did you work as a band?
Doogie: I did have final say on what was included but the musicians are all top class and know their craft so it was never a problem.
Rick: In retrospect, do you think you should have recorded a solo album earlier as opposed to working with so many others?
Doogie: Well the songs have been ready for a while, but I was so busy with various other musical endeavors that to have released it any earlier would have left me competing with myself. I am happy with everything.
Rick: Do you look at your volume of work as a time of learning, a great experience?
Doogie: It's not anything I have reflected on. From Cornerstone to Tank and all in between have been great fun to do, even in the more challenging of times or when the well is dry. But it's all a journey that I am pleased to be on.
Rick: The first thing I noticed is that this is a guitar album in the vein of AC/DC, and The Rolling Stones among others not in the style of a guitar virtuoso.
Doogie: Well I did the guitar virtuoso stuff with others and this was to be a strong song adventure. However, there are very strong guitar performances from the chaps. "Secret Jesus" was the first song written after I left Rainbow and had no solo in it at all but Phil Hilborne found a gap and put a blistering flurry of sonic loveliness in there.
Rick: Are you paying homage to groups that you like on this album? In the intro I hear a echo of "Kashmir". "Come Taste The Band" just the title along seems to be a tip of the hat. "Catz Got Yer Tongue" is Rock and Roll from the title to the final beat. I can hear AC/DC easily recording this one. The first two words "Brown Sugar" had me smiling.
Doogie: The song CTTB, the first song on the album, was written for my Rainbow audition in the style of Mk4 Deep Purple. Ritchie liked the song and thought it was cheeky of me to do it. It's the song that I guess people expected me to do, so its first and the only song like that on the album. Catz is from the same writing session.
Rick: Tell us about this fantastic group of musicians you have assembled.
Doogie: I did not want it to be a band but a group of friends making great music. So I asked people who I had traveled the rock n roll world with to join in and they all did. We worked round everyone's schedule. Of everyone I asked only Ritchie declined.
Rick: Do you plan to tour or just play a few selected shows to support "As Yet Untitled"?
Doogie: I record albums hoping to take the music to the live arena. This one is no different. Talks are taking place.
Rick: You are in such demand. You along with Paul Rodgers are the only two singers that seem to be able to not only fit in but, sing anything. I can see you fronting Queen, and Aerosmith among others. I personally enjoyed your work with Jon Lord. I hope that you will work with him again in the future. With everything going on with Tank, recording with Kruk, Demon's Eye to name a few I was surprised you found the time for a Solo CD. Was it hard to squeeze in the time?

Doogie: Wow!! That's a statement!! I am just a singer who happens to sing rock music because I love it. I have done sessions for publishing companies for pop songs but I don't really get the vibe. I love big guitars. There are 52 weeks in a year I try to work, if I can, in most of them. To work with Jon Lord was a serious highlight for me and if I have one wish it is that I get to sing with Jon again, hopefully in 4 or 5 years time.
Rick: At the moment you are recording with Tank, correct?
Doogie: We are writing the new album between doing shows. There is pressure for this one as the last one "War Machine" was so strong. It's coming together quite well, we will write 15, record 12 and put 10 on the album.
Rick: Can you tell us about any other projects you have in the works?
Doogie: Not at the moment. I am concentrating on promoting the solo album and looking at tour dates. Also with Tank live shows and a new album in the works that will take me to Christmas.
Rick: One last question, is there anyone you would like to work with that you have not?
Doogie: I wrote and performed with Michael Schenker and hope we can do more together. I would quite like to challenge myself with Tony Iommi but I guess every singer in rock would love to do that. Also I would like to finish what Ritchie Blackmore and I started in 94. It seems unfinished to me. I think that's wishful thinking though.
Rick: Thank you for your time. Best wishes for the album "As Yet Untitled". Very enjoyable, both the album and the interview.

Doogie's new solo album As Yet Untitled will be released via Metal Mind on October 24 in Europe and November 7 in the US.
Track list:
Come Taste The Band
Time Machine
Dreams Lie Down And Die
Lonely
Land Of The Deceiver
Secret Jesus
Sea Of Emotion
Catz Got Yer Tongue
Living On The Cheap
Times Like These
Personnel:
Patrick Johansson (Yngwie Malmsteen) – Drums
Thomas Broman (Glenn Hughes) – Drums
Derek Sherinian (Black Country Communion) – Keyboards
Tony Carey (Rainbow) – Keyboards
Neil Murray (Whitesnake) – Bass
Greg Smith (Ted Nugent) – Bass
Paul Logue (Edens Curse) – Bass
Pontus Norgren (Hammerfall) – Guitar
Marcus Jidell (Royal Hunt) – Guitar
Phil Hilborne (Queen Musical) – Guitar
Mick Tucker (Tank) – Guitar
Patti Russo (Meatloaf, Cher) – Guest vocals