This is a concert report from Heaven And Hell's tribute to Ronnie James Dio this weekend at London's High Voltage Festival.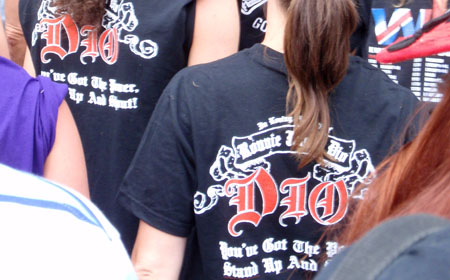 A big cheer goes up from the crowd. We're at London's High Voltage Festival waiting for Heaven And Hell to do their tribute show to Ronnie James Dio, and we're kinda ready to get started. The big cheer greets a photo of Ronnie James Dio on the screens by the stage. The photo turns into a short gallery with images of Ronnie from the Elf days onwards. Then "E5150" comes over the speakers.
Vinnie Appice appears behind his somewhat scaled down drumkit. He greets the crowd and positions himself to start throwing his thunder. Then Iommi and Butler appear. This is Heaven And Hell. Any second now, a smiling Ronnie James Dio will bounce out from the side of the stage…
No! We are all here because Ronnie isn't with us anymore. And we've come from all over. There's the Japanese girl who travelled here by herself only for this show. She only heard of Ronnie James Dio a few years ago and bought her High Voltage ticket in January before Ronnie's condition took a turn for the worse and H&H cancelled all their summer shows. Now they're back on the bill for one last time, and the Japanese girl is here to pay her respect.
So are thousands of other Dio fans. All kinds of languages are spoken throughout the incredibly well planned festival site. The amount of Dio t-shirts is unreal; from recent ones honouring his memory, loads of Cancer Fund shirts, and a wealth of well worn shirts from past Dio tours.
Heaven And Hell's rescheduled show at High Voltage comes with equal amounts of anticipation and apprehension. How will it feel seeing Jorn Lande and Glenn Hughes sing with the band instead of Ronnie? Will it bring closure to the sadness and anger over his much too early and unjust death?
The band launches into "Mob Rules", and Jorn Lande storms onto the stage, wild eyed and eager. The lump in the throat swells up. This is Ronnie James Dio's band and he is sadly missed. But Jorn Lande does a splendid job. He sings the song unselfishly. He is focused and very well rehearsed – even if he is reading the words off a cue sheet, but that's allowed.
Vocally Lande is on the ball. He knows the piece and captures the energy beautifully. In front of the stage all kinds of emotions are raging. It's so wrong that Ronnie is not there, but Jorn is doing a great job and there's no reason not to enjoy the full roar of Heaven And Hell one last time.
This must be difficult for them. Geezer pretty much sticks to his spot, plucking away incessantly at his bass, hair flying. Iommi remains the grand old riff master, resplendent in blue tinted glasses and long black coat. Stylish, calm and collected. The big screens reveal in close up Appice's contorted face as he hammers home every stroke with brutal force and that dramatic dragging groove that is unmistably his own.
But who knows how they feel? And who knows what Lande is feeling. He doesn't say much, quickly asks how we are doing and introduces the next song. "I" off "Dehumanizer". Gorgeous. Again he pretty much nails it RJD-style with excellent timing and phrasing. In front of him, the full festival crowd has shifted from an ecstatic welcome to (almost) quietly observing the band and trying to suss out exactly how to handle this special situation.
After "I", Jorn Lande respectfully announces "Ladies and gentlemen, mr. Glenn Hughes." For the rest of the show, the singers trade place every two songs.
Curiously enough, Glenn Hughes' first song is "Country Girl". He prances about the stage, strutting his weird designer haircut and makes gestures and faces at the crowd that are taken straigh out of chapter one of The Heavy Metal Frontman textbook. It's sort of embarrassing, but perhaps he'll settle down once the nerves are calm.
It's not fair to be too critical of Glenn Hughes at this gig. Apparently he was one of Ronnie's favourite singers, and he sang at Ronnie's funeral, so his efforts deserve respect. But as it turns out, Glenn Hughes has finally found his match – or insurmountable mountain if you will. His voice, splendidly powerful and refined as it is, simply doesn't fit this band. He delivers Ronnie's rich and melodic tunes with a strangely staccato feel that sounds strained and unnatural.
On the other hand, Jorn Lande is a rock solid no nonsense frontman. Without too much fuss and bother he sings everything just right. You might argue Glenn is doing a tribute to Ronnie, interpreting the songs in a different way while Jorn is copying Dio's way of doing them. Suffice to say, should the band decide to carry on after this, it will be difficult to imagine a singer better suited to their sound than Lande. Simply add some new songs and a new name, and this band would once again be equipped wth a great vocalist and a promising future.
But even combined, tonight's two magnificient singers – Glenn Hughes and Jorn Lande – can't match Ronnie James Dio in terms of his masterful and inspirational singing and an inimitable frontman skills. He would capture your attention and hold it effortlessly as he lead you through his shows with infectious enthusiasm.
For the eerie and spellbinding opening to "Falling Off the Edge of the World" Glenn Hughes comes close to the spirit of Ronnie's singing. It is a touching piece as it is, but the circumstances tonight reinforce the power in the opening lines; "I think about closing the door, and lately I think of it more…" Shivers run hot and cold down the spine, and the eyes mist over. I can't be the only one fighting with the feelings and the memories. All around me people are watching in silent awe.
The same thing happens during Tony Iommi's guitarspot and during other instrumental bits. Close your eyes and it's almost as if Ronnie is there getting ready to sing the next verse…
After "Die Young", Wendy Dio is invited onstage. Terribly nervous and overcome with emotion, she reads out a short speech praising Ronnie and urging everyone to support the Stand Up and Shout Cancer Fund. Indeed, judging by the number of complimentary donator t-shirts seen around, many in the audience already have.
The band has chosen to a set of songs that loosely reflects the show they've been doing the past couple of years. Songs from their first two albums together, "Heaven And Hell" and "Mob Rules", one from "Dehumanzier" and even one from Ronnie James Dio's last album, "The Devil You Know." Glenn Hughes does a competent version of "Bible Black" but seems uncomfortable with the darker aspects of the lyrics.
One 'new' old addition to the set is "Turn Up the Night", sung by Jorn Lande. A refreshing reacquaintance. The last two songs are shared between the two singers – and suddenly during "Neon Knights" an intruder appears; Phil Anselmo of Down has decided he'll sing with the guys onstage – who obviously haven't approved the idea.
Heaven And Hell's final show at High Voltage is a chance for the fans to get together and celebrate and revel in the music that was a big part of Ronnie James Dio's life. For such an occassion, it is important to allow room for feelings and expression. Sadly, the sensitive atmosphere between the band and the thousands of devoted Dio fans is mauled by Glenn Hughes' shameless prancing and his abrasive attitude. He allows nothing to breathe on its own.
The song "Heaven and Hell" has long been a crowd favourite and highpoint of any Heaven And Hell concert. The crowd would take over the riff and sing it back to the band – often with breathtaking power. Tonight this moment of united band-crowd magic is spoiled. "I want you to sing this riff," instructs Glenn Hughes before the song has even started. He has no right. How much grander had it felt, and how much more release had it offered, if Glenn had stood back and let it evolve spontaneously?
And this is where the show falls short. It brings no closure. It does not allow the crowd to unite with the band. Jorn Lande knows when to hold back and be respectful, but Glenn Hughes is a poor but dominant custodian of the honour bestowed upon him tonight.
The band wisely skips that section of "Heaven and Hell" about the big black shape looking down at us. Routinely, all the stage lights would go out and Ronnie would lean over a red spotlight nested between his monitors, so he was lit up from below like the devil himself – to great theatrical and dramatic effect. Fortunately this piece of Dio magic is left alone in everybody's memories.
By the end of the show the crowd is left emotionally drained and confused. It wouldn't have been right to let Jorn Lande handle all the vocals, but you wish the band had invited a couple more singers along to help spread the burdon.
What High Voltage did offer was one final, triumphant dose of the Black Sabbath that Ronnie James Dio helped revive in 1980. This was a splendid celebration of Sabbath's most musical and most skilled singer and frontman. And it was exhilarating to experience again the blasting power of Appice, Butler and Iommi at full whack. Even without Ronnie they're a giant force, and hopefully we have not seen the last of them together.
– Rasmus Heide
Setlist and singers:
E5150
Mob Rules (Jorn)
I (Jorn)
Country Girl (Glenn)
Children of the Sea (Glenn)
Turn Up the Night (Jorn)
Voodoo (Jorn)
Bible Black (Glenn)
Falling Off the Edge of the World (Glenn)
Die Young (Jorn)
Wendy Dio's speech
Heaven and Hell (both)
Neon Knights (both)
Vocals: Jorn Lande / Glenn Hughes
Guitar: Tony Iommi
Bass: Geezer Butler
Drums: Vinnie Appice
Keyboards: Scott Warren