Finally the remastered Stormbringer arrives. A few Day One observations…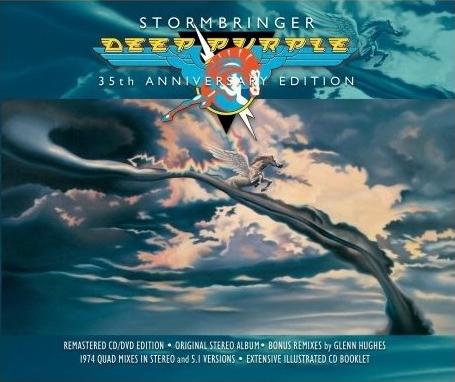 The 2LP is of course gorgeous with the colours brought out much better on the lavish gatefold sleeve which feels terribly luxurious. A really nice move. Thank you!
Sadly the fascinating rehearsal photos from Clearwell Castle are actually smaller on the vinyl bags than in the CD booklet. Check out the Blackmore and Lord stares. Also the revised and simplified Mk 3 logo on the front doesn't fit the artwork as well as the original version which had more colour. Nit picks – discuss!
The vinyl remains unplayed yet, but the CD bonus tracks are an instrumental take of High Ball Shooter (previously available on the Listen Learn Read On box set?) and four new remixes by Glenn Hughes:
Ritchie's solo in Holy Man sounds strangely subdued (Glenn will join Roger on Blackmore's blacklist of disrespectful remixers!). You Can't Do It Right features a crunchier bass and a more commanding opening synthesizer fill. Coverdale's vocals are louder and come from a different vocal take altogether. Lord's synth solo in the middle is louder (and excellently so!). There is an extra organ solo towards the fadeout and some weird guitar sounds that are more aimless dooddling than an actual solo.
Again, the guitar solo over fade-out of Love Don't Mean A Thing sounds distant, while Hold On also features different and more raw vocal takes altogether from both Glenn and Coverdale. These are very nice and add a new freshness. Jon's electric piano solo is also slightly louder – thank you!
Overall the remixes are mainly of interest in the vocal department. Glenn Hughes has brought out the vocals more (both his own and Coverdale's), but at the expense of some of the other instruments. The choice of tracks to remix is both weird and highly predictable as they seem to be Glenn's personal favourites.
They are not at all representative of the album, and allowing Glenn to remix just those four tracks gives the remastered album an uneven feel – and in choice and execution they perfectly illustrate the issues that originally made Ritchie pack his bags!
It's unfortunate that not more unreleased historical material could be included. Coverdale nixed an early and very different take of Soldier of Fortune (shame!) so we are left to feast on Glenn Hughes' questionable remixes and the quad mixes on disc two.
Anyway, the original album of course sounds wonderful, so the bonus stuff shouldn't scare you away. 🙂