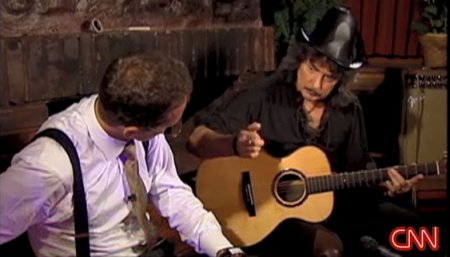 As we have reported previously, Blackmore appeared on the Richard Quest's show Quest For Rock'n'Roll which aired over the weekend on CNN International.
The segment runs for 10 minutes and is rather well done. It revolves around the SOTW riff, with the bad old days aptly illustrated by the Hofstra footage, and then Ritchie appearing in the studio with his acoustic. He demonstrates the right and the wrong way of playing the riff and talks about his affection to medieval music, all of this on the backdrop of his very dry wit.
The second half of the segment is entirely devoted to a British air guitar contest, where SOTW soundtrack (Made in Japan version, if I'm not mistaken) is featured briefly.
For those of you who missed the show for one reason or another, you can now watch it online.
Thanks to Andrey Gusenkov for the link.