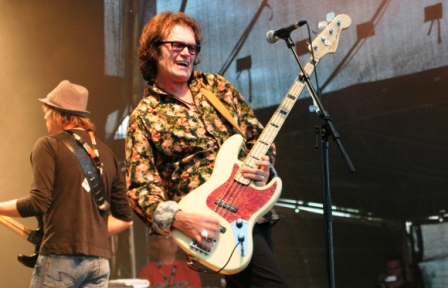 In an interview to Geoff Barton of Classic Rock, Glenn Hughes recalls his days of blow and hookers more blow. With champagne on top. And a little seance in between.
"I was loaded on coke and the champagne was flowing. But I've never smoked a lot of pot, so my memories of those times are pretty vivid," the bassist/vocalist declares. Hughes's cocaine addiction got so serious it threatened to destroy him. But he pulled himself back from the brink and has now been clean and sober for 30 years. Let those vivid memories commence.

---

Ritchie Blackmore

When I got the gig as bass player in Deep Purple I was only aged 21. We went to Clearwell Castle to work on the Burn album. Ritchie rigged up my room with hidden speakers. In the middle of the night I woke up to the sound of all these ghost noises. I was scared shitless! The next night me, Baz Marshall [Purple roadie] and Ritchie held a séance. Baz was a farmer and he'd recently lost one of his cows.

We started the séance and suddenly the room echoed with the sound of a cow mooing. Only this time it wasn't a wind-up! Blackmore freaked and ran out. When it came down to it, he was a bit of a scaredy-cat. But Ritchie was the king of the prank – we all know that. Even today, he always carries a water pistol around with him. I have it on the greatest authority.
Continue reading in Louder Sound.
Thanks to Gary Poronovich for the info.