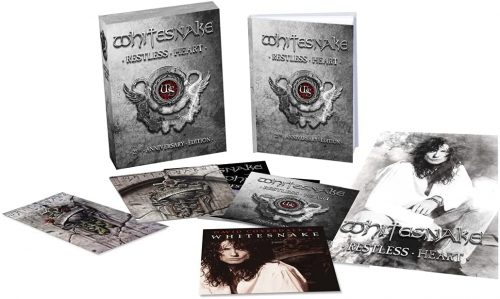 On October 29, 2021, Rhino Records in the US will release the 25th anniversary super deluxe edition of David Coverdale's Restless Heart. The album was originally conceived and recorded as a DC solo album, but the record company insisted on releasing it under the 'David Coverdale & Whitesnake' moniker. The super deluxe box set (pictured above) will include 4CDs+DVD plus related swag:
CD1: 2021 remix of the album;
CD2: 2021 remaster;
CD3: early demos;
CD4: alternative takes;
DVD: fan videos, promo clips, lyric video for the title track, 3 relevant tracks from Starkers in Tokyo acoustic set, plus The Making of documentary.
Consult the label website for further details, including full track listings.
This release will also be available in fairly lean 2CD and 2LP editions. The vinyl will contain just the remixes, while the 2CD will get you both the remixes and remasters.
Thanks to our editor emeritus Benny Holmström for the heads up.