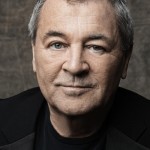 Ian Gillan was interviewed by German newspaper Lübecker Nachrichten, and some tidbits appeared in reverse translation in an unusual corner of the web: a chess site. And here's why:
Ian Gillan: I would also suggest that children should be taught to play chess. It's valuable, for life. You learn to think a step or two ahead, you learn to become more rational, more detached. That's a huge benefit in any argument.

LN: Are you a good chess player?

Ian Gillan: In school I was a member of the chess club, but I am only averagely gifted. I love the game, it's great for your mind. I don't think anyone should run for political office until they've proven they're a member of a chess club. Some of these idiots who are currently in power can't anticipate anything at all, and that's why they keep failing.

Translation from German: Johannes Fischer
Thanks to chessbase.com for the tidbit and to Jim Collins for bringing it to your attention.