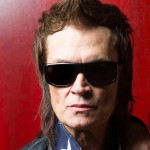 Glenn Hughes visited the University of North Dakota this past weekend to lecture the students on the subject that he knows all too well — drug addiction. Student newspaper reports:
Whether a recovering alcoholic or a young at-risk student, Hughes has made it his mission to do what he can to intercept those at risk before substantial issues begin to arise. The wisdom he has gained through his 65 years is something Hughes believes he did not have at a younger age and a quality many others could benefit from.

"My message to you all is that I hope you can hear what I'm saying and I hope you can understand that what I did helped nobody," Hughes said. "I've watched my friends struggle with the same disease and lost too many of them along the way."
"I don't remember anything about the '80s. I remember absolutely nothing. It's all just a blur."
"There are two types of people on this planet: alcoholics and non-alcoholics. There is no in between … it is a terrible disease that needs to be treated."
"Without guidance from above and without the channel that I'm given to give back to you, I don't know where'd I'd be today. I am so supremely grateful to be on the green side of the grass to come from a loving family and one that was willing to be so supportive."
Thanks to BraveWords and The Dakota Student for the info.