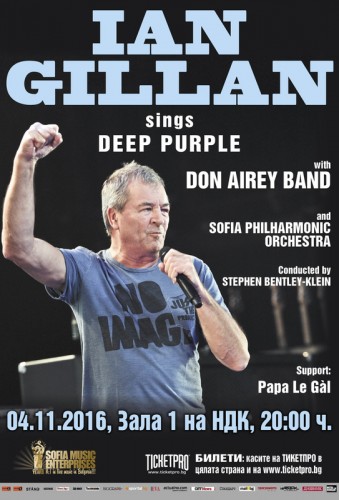 An interesting gig popped up in our calendar. And it's a family affair in more than one sense:
billed as Ian Gillan;
performing with Don Airey Band;
and an orchestra conducted by Stephen Bentley-Klein, who conducted the Deep Purple orchestral tour a few years back;
supported by Papa Le Gál, the band where Ian's daughter Grace is a singer.
To quote a rather well connected source:
I have it on good authority that it won't just be well known DP songs in the repertoire – maybe Anya and Razzle Dazzle – but also some material from IG's catalogue outside of DP.

Quite possibly these might include numbers like No More Cane on the Brazos, Hang Me Out to Dry, A Day Late and a Dollar Short, and No Lotion For That.
It is not beyond the bounds of possibility in this quantum universe, beset as it is with Schrodinger's cat, that more [gigs] will follow.
Thanks to Lutz Reinert, Nigel Young, and Georgi Zbirchev for the info.