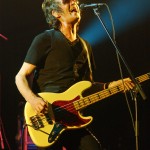 Glenn Hughes has just finished working on a new album in Nashville, and Julian Lennon (son of John) contributed guest vocals to it:
Jules is the ONE who helped me put our new band together. We all love you Jules. Yes. Jules and I are singing together on the new Nashville album. He is in Monaco. We sent him the files last night ~ which he recorded in record time. We received them back 4 hours ago! Trust me. Jules is the real dang deal…
Julian wrote:
The One & Only Glenn Hughes et Moi, singing together for the first time ever last night. Even if we are 4746 Miles apart… Technology Today… Who would have thought…
Thanks to GlennHughes.com for the info.