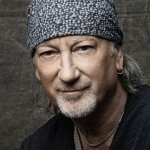 Message from Roger Glover:
Firstly, thank you for all the kind words you sent. I've been knocked sideways by the great reaction to Now What?! I kind of knew it was good but you never really know until people get to hear it and are interested enough to send feedback. I raise a glass to you.

I'm now back home after a memorable festival tour with DP in Morocco, Bulgaria, Georgia and Romania, where yet again I'm reminded of the power of music and how it connects all of us. Listening to music is one of my favourite occupations. I was randomly investigating my music library the other night when I came across a song that called forth a memory.
Continue reading on RogerGlover.com.