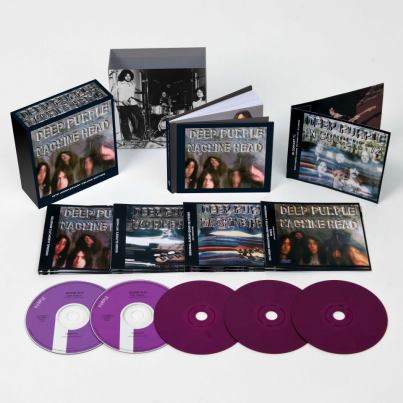 Deep Purple (Overseas) and EMI have announced a 40th anniversary box set edition of the Machine Head, to be released on October 8, 2012 (in Europe, presumably). This five discs special edition will be accompanied with illustrated 60 page hardback booklet.
Contents of the box set include:
CD1: original album 2012 remaster
CD2: 1997 remix by Roger Glover
CD3: original album quad SQ mix in stereo (2012 remaster)
CD4: In Concert '72 – 2012 remix (recorded live at Paris Theatre, London 9th March 1972)
CD5: 2012 high resolution remaster and surround mix (DVD)
Booklet features:
Detailed essays from original bassist Roger Glover and Mojo magazine editor Phil Alexander
Quotations from Deep Purple fans Mikael Akerfelt, Luke Morley, Sebastian Vettel, Eddie Jordan, Brian Tatler, Janick Gers and Peter Hook.
An interview with famed photographer Didi Zill, whose photos of the legendary recording sessions in Switzerland illustrate the booklet.