In addition to the Machine Head 40th anniversary box set, EMI will be releasing on October 8 two more anniversary editions, both on vinyl: a remastered Machine Head and remixed In Concert'72. Here's the rundown.
Machine Head
Original album, newly remastered in 2012 by Jon Astley;
audiophile 180gram heavyweight vinyl in a gatefold sleeve reproducing the original cover;
features a 6 panel lyric sheet;
package includes bonus 7″ single Never Before / When A Blind Man Cries in a Purple Records house bag.
In Concert'72 Deluxe 2LP Set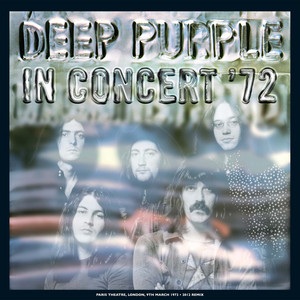 Recorded at the BBC's Paris Theatre, London on 9th March 1972 (previously available on the second part of In Concert 70/72);
Double LP set on purple vinyl;
features a new 2012 mix from the original 8 track tapes with the original set list in its correct order;
remixed at Abbey Road Studios;
new artwork and photographs by Barry Plummer taken at the concert itself;
because of the duration of the concert and issues with sound quality in relation to the length of audio on sides of LPs, the encore Lucille is being issued on the A-side of a 33 1/3 purple vinyl 7" housed in a Purple Records bag;
single's B-side features an exclusive to this edition and previously unreleased version of Maybe I'm A Leo recorded during the soundcheck; Simon Robinson describes it as "very rough indeed – with Gillan singing just a few bits (to save his voice)".
Track list:
Record 1
Side 1
Introduction
Highway Star
Strange Kind of Woman
Side 2
Maybe I'm a Leo
Smoke On the Water
Record 2
Side 1
Never Before
Lazy
Side 2
Space Truckin'
Bonus 7 Inch
Side 1: Lucille
Side 2: Maybe I'm a Leo (Soundcheck)