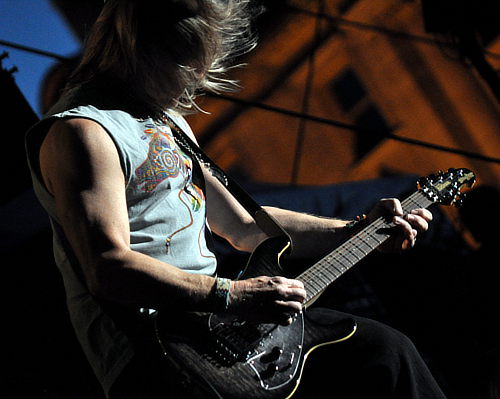 In anticipation of the June 11 show in Atlantic City, another interview with Steve Morse appeared in the local press:
I love being part of this. Musically this has been the easiest group I've been a part of. It's a relaxed atmosphere.The songs are simply structured. I play with a band that has lots of intensity. It's fun and perhaps the best thing is that you can do what you want.
We've been seeing a lot more teens and people in their 20s at shows. It's a funny thing because people that age couldn't have seen Richie Blackmore as the Deep Purple guitarist. They could have only seen me. That's a cool thing. I want to make sure that they get the best possible experience. They need to leave the venue knowing that they have just witnessed one of the best hard rock bands ever. We have a reputation to protect every night we step on that stage.
Read more in Atlantic City Weekly.
After the show, a pretty much glowing review appeared in Press of Atlantic City:
Few bands have successfully gone through major lineup changes – particularly the replacement of its lead singer and lead guitarist – and remain together as long and stay as successful as Deep Purple.

More than 40 years after the band formed and eventually became British rock royalty, Deep Purple proved Saturday night that it still has a few tricks up its sleeve, performing to a packed Tropicana Casino and Resort showroom backed by a nearly 30-piece orchestra.
Read the rest at pressofAtlanticCity.com.
Thanks to Andrey Barabanshchikov for the info.