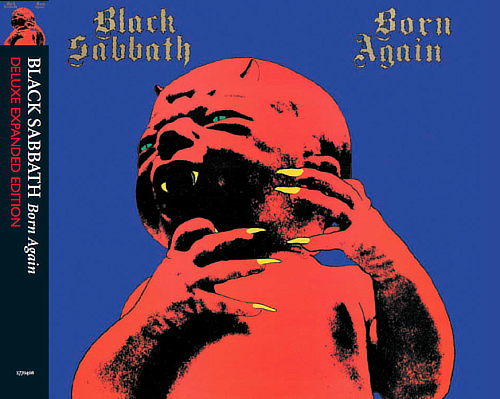 Born Again will be re-released in the UK via Universal/Sanctuary as a 2CD Deluxe Edition on May 30.
Track listing:
Disc 1:
Trashed
Stonehenge
Disturbing the Priest
The Dark
Zero the Hero
Digital Bitch
Born Again
Hot Line
Keep it Warm
Disc 2:
The Fallen (previously unreleased album session outtake)
Stonehenge (extended version)
Hot Line
War Pigs
Black Sabbath
The Dark
Zero the Hero
Digital Bitch
Iron Man
Smoke on the Water
Paranoid
Disc 1 is a straight copy of the original album, most likely remastered, but not remixed. On the second disc, The Fallen is a studio outtake from the album sessions, Stonehenge is a 5 minute long version, and tracks 3 to 11 are from the BBC Friday Rock Show broadcast of the Reading Festival, Saturday, August 27, 1983.
Black-sabbath.com covers the release in great detail, including what, why and how.
Take advantage from the low Pound and preorder it from Amazon UK.