Update May 26: Release date has been put back to June 15.
"Stay Tuned" is the title of Austrian drummer Bernhard Welz' first solo album. It features a slew of prominent guest musicians, including Roger Glover, Steve Morse, Don Airey, Ian Paice (live drum solo 2002), Neil Murray, Steve Lukather, Mike Stern, Mark King and many more.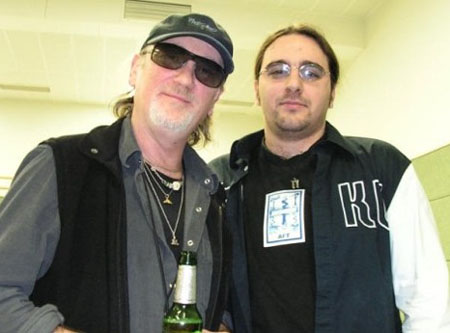 Jon Lord will feature on a limited edition of 1.000 copies, that include a bonus live recording of "Child In Time" with Jon Lord, Steve Lee (vocals, Gotthard) and Bernhard Welz on drums. This was recorded with the Nota Bene Symphony Orchestra in Zürich, Switzerland January 2009.
The studio tracks were recorded between April 2009 and March 2010. Most of the international guests recorded their parts at home, but not all, explains Bernhard Welz.
 
– I worked in the studio with Steve Lukather, Mike Stern, Ernesto Ghezzi, Kaitner Z Doka, and most of the local artists.
– There was one funny incident. When I recorded with Steve Lukather in Frankfurt, I had come straight from a show in Stuttgart. We talked about travelling and then he asked me "did you do it in A440". I said "no A81" I meant the motorway I'd used to get there. He meant tuning the guitar in 440 Hz! He looked at me like I was a ghost, then he said: "Ah, nevermind, I play everything."
Sales of the album supports the Children Cancer Trust, and the release date is May 20.