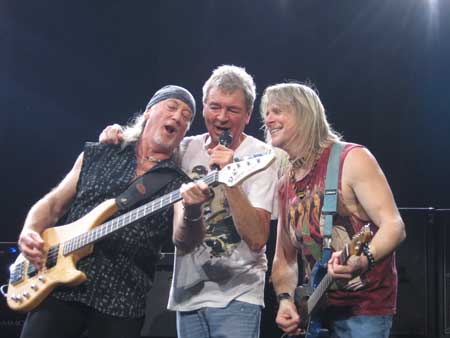 Australian newspaper Herald Sun has published an interview with Ian Gillan. No groundbreaking revelations there, just the same war stories most THS visitors have already heard and read. But it's good to see the band getting media attention during the tour.
We have the freedom. It's exciting. It's like you going to the office every day, and then outside you've got your motorbike waiting and you jump on and roar off into the night and feel the wind blow through your hair. It's like sport, you know your teammates but you never quite know what's going to happen on the day.
Which is your most precious memory with the band?
You always remember the first time. I've been in music all my life. My grandad was an opera singer, my uncle a jazz musician, I was a boy soprano in the church choir. But the first performance with Deep Purple was something I'll never forget. All elements were working brilliantly.
Read more in Herald Sun.
Thanks to Daniel Bengtsson for the info.