The official Deep Purple online store is running a promotion to celebrate it's recent opening. If you spend over £20 they'll give you a £5 discount (enter voucher code DP-WTX1-BLMT-GTW3 at the checkout) and you will be automatically entered into a prize draw. Two winners will receive a set of DVDs plus an autographed photo of the band. The DVD set will include:
Glenn Hughes: Live In Australia
Deep Purple: Bombay Calling
Gillan's Inn (Deluxe Tour Edition)
Hoochie Coochie Men: Live At The Basement
The Steve Morse Band: Live in Baden-Baden Germany
Ian Gillan: Live In Anaheim
Jon Lord: With Pictures
Deep Purple: Total Abandon
Living Loud: Loud & Live
Ian Paice: On The Drums
Steve Morse: Live in New York & Cruise Control
This promotion runs until May 31st.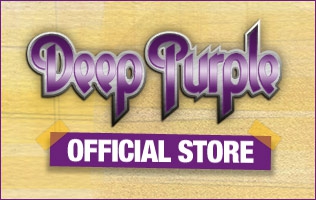 Click on the logo will take you directly to the store.