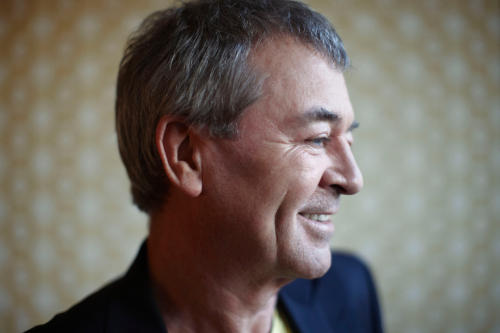 Another interview with Ian Gillan, this time at KNAC.com (Big Ian is certainly getting his money's worth from the PR agents). Amid the familiar by now story behind One Eye To Morocco, he made some interesting remarks, particularly about his songwriting process:
I never write the lyrics first, but I do make a lot of notes every day. I've got hundreds of books. I use the composition books, like the ones the American schools use. I've got hundreds of them. If I see anything over the course of the day that either makes me start growling or makes me roll on the floor laughing or touches me emotionally, then it gets written down. Names, places, times, clothes, weather — all those little bits of color that take you right back to the moment when you want to use it in a song or in an essay or something like that. So those ideas are kept and logged for later use. But normally speaking, if I'm writing with Steve Morris, for example, he comes up with some backing track demo-type things and then I write the tunes and put the words on top. I do what I do — the singing bit and all the connected parts. But generally it's the tune that comes first. You can hear the beginning of the words when I do what I call "my gibberish," which is when I sing and I first hear the ideas and the music with a guitar or a more developed piece. I just start singing the most natural thing, without having to worry about the words. But more important at that stage than the meaning of the words is the sound of the words. So I'm pretty careful with the vowel sounds and the percussive value of the consonants. When you're hitting the high note, you don't want an "ooo" sound, you want a more open vowel sound because singers don't like that. So it's the working on the craft of it, really. Then once you've got that in shape, you can think more about the words. But very often, a phrase or a sentence or a word will come spontaneously whilst I'm doing this gibberish, and very often that will lead to the development of the rest of the lyrics.
Read the rest of the interview at KNAC.com.
Thanks to BraveWords for the info.