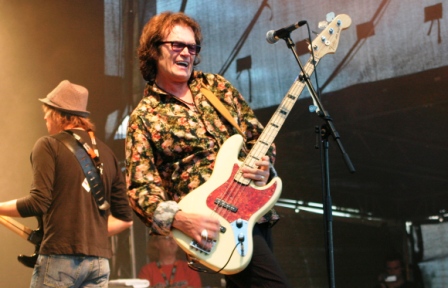 Glenn Hughes has posted a holiday message on his Myspace page:
Hi Everyone,

Wow, what a year!!!!

It is a time for me to give thanx to my Higher Power, for, one more time, givin' me the gifts to, make music, both on tour and in the studio.

It has also been a time of loss…the Passing of my very close friend Kevin Dubrow, has left a void in mine and Gabi's life. He was, is, part of our family. Words cannot describe how deeply saddened we both are…..Like Tommy Bolin, I will honor his name….I knew a very personable, intelligent, generous and hilarious KD…..may he rest in Peace.

Wanna thank you the many people who attended my Concerts this year, from LA to New York, from Moscow to London, from Rio to Kiev…thanx for growing with me.

Now…..I have just completed my new album……we are mixing @ the moment, and will be mastering in January……I'm always excited about recording new albums, the songs are personal to me, as they are constantly being shaped thru out the year.

Well here goes….I have never EVER had an experience like this B4…..this Music is changing my life, it feels like these songs have been livin' inside of me for quite sometime, waitin' for the right moment to be born.

These songs are a gift to myself, those that are closest to me are saying that this is my greatest work…simply because I was not afraid to show myself as an Artist…and, I really pushed myself as a songwriter, both musically and Lyrically to the MAX.

If you want a comparison, there isn't one, but it's in the "Play Me Out", "You are the Music", and "Feel"….."vibe". It will change the way I make music for the rest of my life…there is no doubt in my mind, that this work will enable me to become a better person, God wants us all to have our innermost hearts desires, and this is mine…… It will be released Worldwide in April….It is the greatest high I've ever had, better than Drugs, Food, Sport, and yes even better than Sex.

I got somethin' cookin' for ya…..

Glenn
Xmas, 2007
Thanks to Daniel Bengtsson for the info.