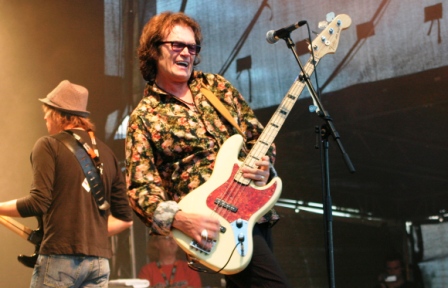 Glenn Hughes in a message to the fans left on his Myspace page, mentions his new album:
To all of you in Bulgaria, France, Spain, Norway, Italia, Chile, Argentina, Brazil and Greece, I look 4ward to Funkin' it up with you as well.

It's been an amazin' year, full of new adventures. It has given me the "juice" to write, what I consider a turning point album……these songs have been a real blessing to write, you could call it a roots record……don't wanna keep you guessin', but I can say that this will be the Funkiest, Rock N' Soul album so far…..
Glenn's touring schedule has been revamped: September 6 show in Pristina has been canceled due to instability in Kosovo. September 7 show in Sofia, Bulgaria has been postponed, tentatively to the 28th. On September 7 he will perform instead in another Bulgarian city, Kavarna, where mayor is a good friend of Glenn. This show will consist of Deep Purple Mk3/Mk4 classics. Another three shows have been scheduled in Greece in November, with Athens yet to be confirmed.
See the complete rundown in our tourdate listings.
Thanks to GHPG.net for the info.