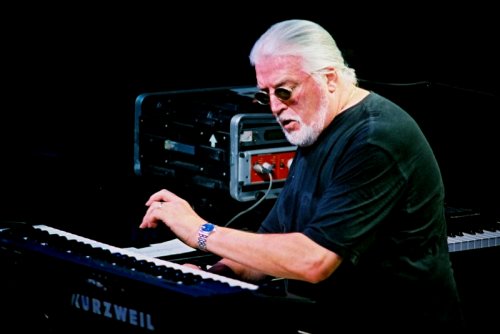 Photo: Jim Corrigan
Hereford Times has more details on the Jon Lord's May 11 performance of From Darkness to Light:
Composer and former Deep Purple musician Jon Lord was in Hereford to see more than 400 schoolchildren joining together in a performance of his new work From Darkness to Light in Hereford Cathedral.

The work is scored for string orchestra, piano, harp, four part choir, children's choir and tenor soloist.

The children's choir involves choirs from seven Herefordshire schools, who will be singing with Hereford Cathedral School Chapel Choir, tenor soloist Jon Weller and a professional orchestra under the direction of David Evans, director of music at Cathedral School.

In addition to the new work, the programme included a performance of Parry's Anthem I was Glad, and the Piano Concerto in A minor by Grieg, performed by the Cathedral School Symphony Orchestra with soloist Liam Dunachie, a senior music scholar at the school.
From Darkness to Light will be performed again at the Nidaros Cathedral in Trondheim, Norway, on July 1.