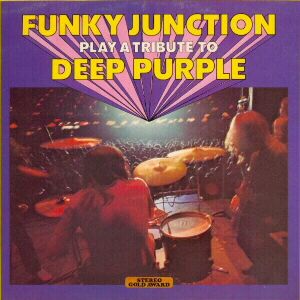 Online incarnation of the Classic Rock magazine has a writeup on that desperate time in Thin Lizzy history when they had to resort to recording covers anonymously to make the ends meet. An album called Funky Junction play a tribute to Deep Purple was the result.
The band were desperate to do something that might finally bring in some income, so they accepted £1,000 to record an album of Deep Purple covers for Stereo Gold Award, an imprint set up by budget label entrepreneur David L. Miller, whose cheaply recorded 101 Strings compilations still clutter charity shops 60 years on.

Miller had developed a business model that was as ruthless as it was efficient, hiring up-and-coming musicians to re-record popular songs and releasing them as albums an unwary shopper might think was original material. Typical was an album of Jimi Hendrix songs credited to "The Purple Fox." As Miller himself once proclaimed, "We are not in the recording business, we are in the plastics business."
Continue reading in Louder Sound.
Be sure check out THS special on the album that we did back in the day when dinosaurs roamed the 'net.
Thanks to Gary Poronovich for the info.