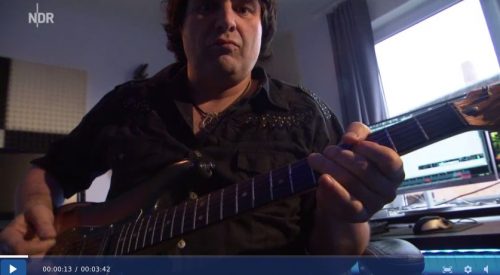 Early February this year German TV channel NDR aired a short special about Jürgen Blackmore. Here's the gist of it courtesy of our correspondent on location:
After five years of lack of communication, he met his dad again when he was ten. It was a very moving moment. They were in a dressing room in Hamburg and Ritchie asked him "do you play guitar?" Jürgen replied: "yes, mom bought me a concert guitar for fifty Deutschmarks, I have started learning how to play it." Whereupon Ritchie picked out one of his own guitars and said "this one is for you".
Margit Blackmore spoke (in an old interview) about a rather well-known story how she bought new shoes for Ritchie from her first salary when his got stolen
at Hotel Pacific, where he was lodging at the time. Two months later she moved to England with him.
Jürgen pointed out that he never wanted to copy his father. He just felt the desire to play guitar — it was "within him".
Jürgen mentioned that it was Steve Morse's idea that he come on stage and do a guest spot during SOTW with Purple in Hamburg in November 2010.
Purple actually had asked him to accompany them on tour this year. He had to decline the offer as he is still dealing with the health effects from a bad case of bacterial infection. That's why he still has to rest a lot and spends his time in the studio producing.
You can watch the original German report online at ndr.de.
Many thanks to Yvonne for the info and translation.