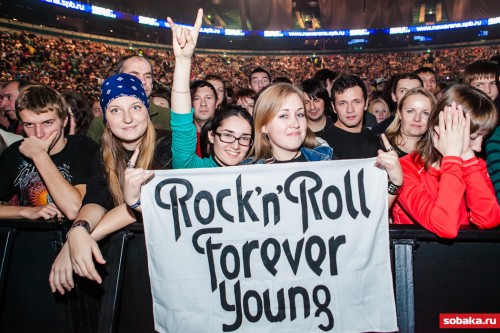 St.Petersburg based Sobaka.ru took a slightly unorthodox approach to the photo report of a Deep Purple concert. In its dead tree incarnation Sobaka.ru is a glossy 'lifestyle' magazine, so they concentrated on people in the audience instead of exclusivity of what's happening on stage.
And you know what — the result kinda sorta lends some credibility to Gillan's claims of the "18 year old audiences" often repeated in interviews. At least in some places. Yes, there's is probably quite a bit of a selection bias going on, but you gotta have young people in the audience to start with in order to make such selection bias possible. And yes, they all rush to the front row, and yes, the front row is all that the band can see from stage.
Check out the gallery at sobaka.ru.
On a more traditional note, there's plenty of good pictures here, here and here.
Thanks to Kostya and Andrey Gusenkov for the info.