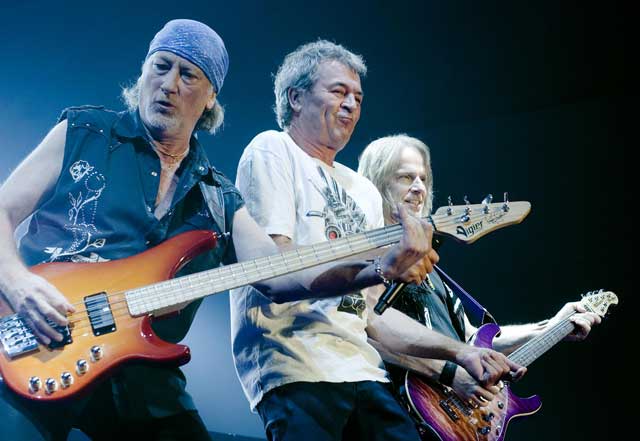 All photos are (c) Bulphoto 2007.
The concert in Sofia was held in the Festival Hall (Zala Festivalna) in front of a crowd of 7.500 enthusiastic fans representatives of three generations. It was nice to see a father and a daughter or a grandfather, a son and his little boy singing alongside groups of young long-haired hardrock fans armed with their black Purple T-shirts and headbands.
All the tickets for the show were sold out more than a month before the concert date leaving the fans wondering why a venue with that capacity had been chosen for a concert of such calibre.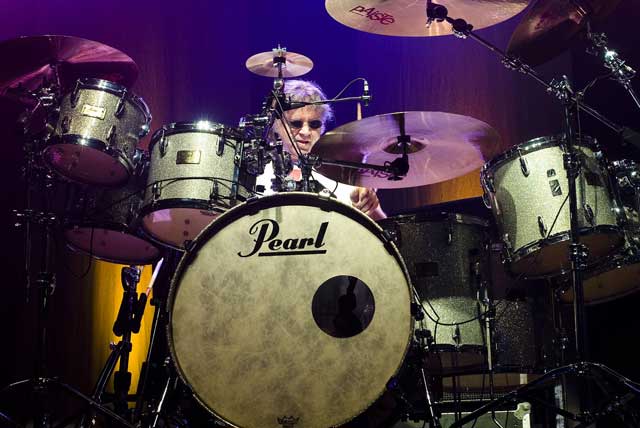 The Bulgarian hard rockers Konkurent weren't the best choice of a warm up band as the lead singer's Coverdale-style microphone stand tricks were a bit annoying having in mind the next band waiting backstage had Gillan up front.
Anyway, the guys were on stage only for 25 minutes and did what they were invited for – got the people in the mood for the great show coming up.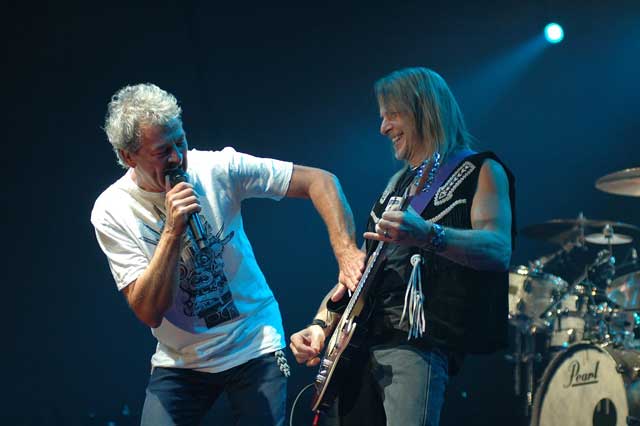 Deep Purple went on stage exactly at 8.30pm local time under the roar of the standing audience which did not sit back at their seats till the end of the show.
The performance was extraordinary – full of passion and devotion: Steve Morse getting the crowd screaming in joy a dozen times at the virtuosity of his solos, always-smiling Ian Paice and crowd-bantering Roger Glover with their energetic performances, Don Airey with his professionalism giving depth to every song he plays and, of course, Ian Gillan with the power of his presence and his remarkable voice – everyone proved that the band is still in top form!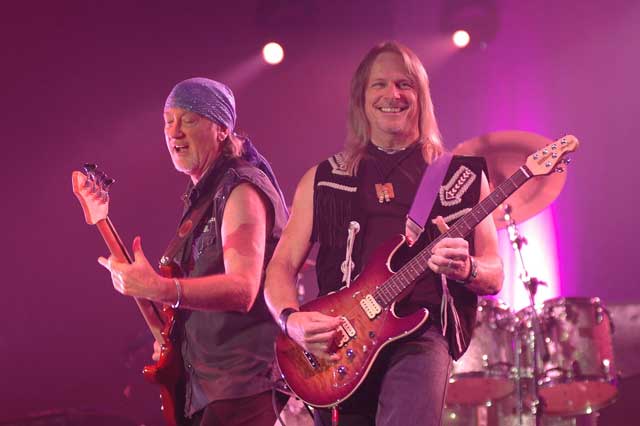 The set list did not include any surprises:
1. Pictures Of Home
2. Things I Never Said
3. Into The Fire
4. Strange Kind Of Woman
5. Rapture Of The Deep
6. Woman From Tokyo
7. Kiss Tomorrow Goodbye
8. Contact Loss
9. Steve Morse solo
10. Well Dressed Guitar
11. Knocking At Your Back Door
12. Lazy
13. Don Airey solo
14. Perfect Strangers
15. Space Truckin'
16. Highway Star
17. Smoke On The Water
Encore:
18. Hush
19. Black Night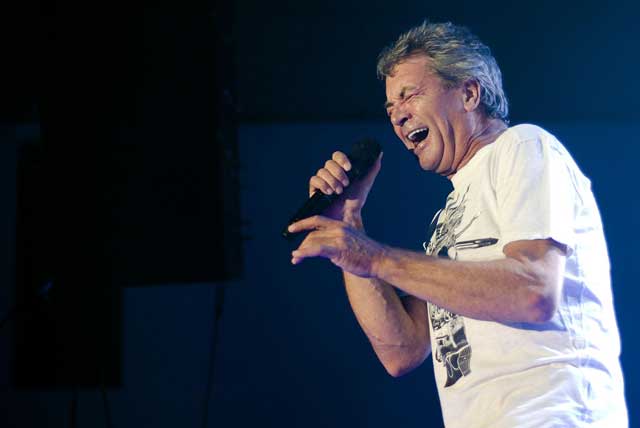 The band left the stage at about 10.20pm after giving an emphatic performance that made people chant their hymns outside the hall hours after the end of the concert.
To be honest, I'm 24 now and that was the first Deep Purple concert I attended. I was thrilled by the energy these five guys possess. I cannot imagine what it would be to go to a Purple concert in the 1970s… Exceptional!
Dragomir Keranov