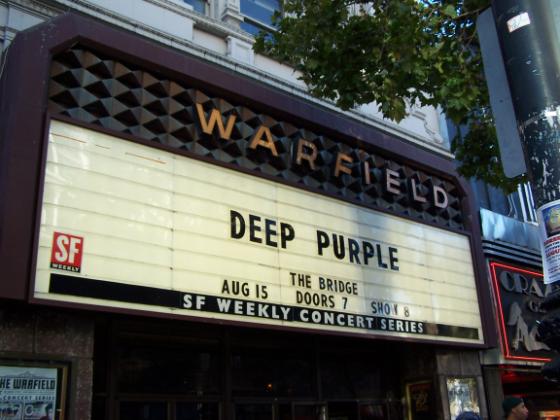 Seeing a DP show is such a special experience, that I find it hard to express myself without using the same words (marvelous, amazing, wonderful) that I have used before… so I'll try to avoid those words.
I don't want to be long winded so I'll simply relate a few random surprises from the show.
"Kiss Tomorrow Goodbye" returned to the set list, making a total of 3 songs from ROTD that were played at the show. And I don't know if this is a just a subjective personal perception, but it seemed that "Things I never said" was played "heavier" than on the CD… it really rocked.

Special guest was Jeff Watson of Night Ranger fame. He shredded, and also "helped" on SOTW.
"Speed King" was played during the encore… with a Roger solo, and a Paicey solo included.
Since going backstage is really not part of the "show", I'll not bore by relating too many details of our backstage "adventures", except to say that it was quite interesting discussing philosophy and set lists with a half naked Ian Gillan, and that it was just flat out fun when Steve Morse and I went "hunting" for DP manager Bruce Payne. 🙂
Re. the show, itself…Of course there were smiles all around, and it really is physically impossible not to have fun in the audience, when the band is so obviously have such a grand time onstage.
It will be difficult to top such a great evening.
Lucy and Rich Franz